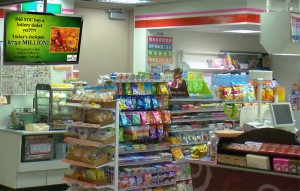 Convenience stores have a wide variety of signage needs, from point-of-purchase (POP) displays and special promotion signs to brand reinforcement. This is why Origin Menu Boards, a leader in the signage and display industry, provides conventional, digital and custom signage and display solutions that are as varied as the needs of today's convenience stores.
Each of our signage products for convenience stores – from digital and standard menu boards to banners and graphics – is designed to effectively display your brand and communicate the right image and messages that will bring customers through your door.
Origin's convenience store signage experts know just how important branding is, and possess a wealth of experience helping c-store owners build foot traffic in their establishments by getting their sales messages in front of customers quickly and emphatically. They also know that strategically placed signage displays will direct customers through your convenience store to products that you want them to buy.
From taking advantage of impulse shopping at the counter to promoting high-margin products, our experts can help convenience store owners select the right types of signage solutions that will efficiently provide necessary product information while increasing sales.
Our convenience store signage experts recommend:
Our convenience store signage options also include:
"Open for business" displays.
In-store advertising monitors.
Counter displays announcing daily specials.
Sidewalk/walk-in signs.
"Take a number" systems.
Special promotions.
Rest assured that Origin will be with you every step of the way, from menu board display planning, development and marketing services to project management, custom menu board fabrication and digital technology services.
Contact us today for more information about our products and services and to gain more insight into how we provide signage solutions and support to large and small convenience stores.