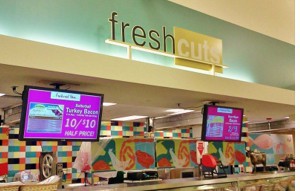 Want a surefire and cost-effective way to update your grocery store while increasing foot traffic, generating more sales and improving profits? Looking to cater to your customers' shopping needs using the latest and best in-store communication tools available?
Then look no further than to Origin Menu Boards, a leader in signage and display industry! For years we've been providing grocery store owners, managers and executives with the latest, cutting-edge conventional, digital and custom grocery store signage and displays.
At Origin we have a wide selection of grocery store signage solutions that can help give your grocery store a distinct advantage over the competition. Signage and displays from Origin can also build your store's brand and image, as well as optimize your location's in-store communications with customers and employees at the register, down aisles, above counters and more.
In addition, our signage and displays can also enhance wayfinding in your store so that customers can find what they're seeking more easily and you can quickly direct customers to special promotions and sale items.
Overall, the ability to display sale items and higher-profit-margin products and to draw customers to them will help your customers with purchasing decisions and keep them moving throughout your store, ultimately leading to more profitability!
To get started, our experienced grocery store signage experts recommend:
• Digital menu boards.
• Menu boards.
• Banners and graphics.
Origin's signage options for grocery stores also include:
• Sidewalk and walk-in signage.
• "Take a number" systems.
• Deli counter displays.
• Aisle signage.
• Point-of-sale advertising monitors.
• Plug-and-play promo solutions for existing monitors.
Contact Origin Menu Boards today for more information about any of our products and services and to learn more about how we provide signage solutions and support to large and small grocery stores, supermarkets and other types of food markets run by single-unit operators and large chains.
You can rest easy knowing that Origin is with you for every step of the project, from management, development and training to configuration and installation. We can even customize your grocery store signage and displays to match the ambience, décor and appeal of your customer base and store location, all while staying within your budget