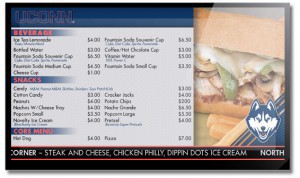 In today's world, it's more important than ever for schools, colleges and universities to be on the cutting edge of technology while keeping all students, staff, faculty and parents informed about the latest events, achievements, curriculum updates, test and holiday schedules, and key daily, weekly and quarterly information.
That's why an increasing numbers of public and private educational institutions have turned to the latest in innovative and advanced educational displays and signage.
Enter Origin Menu Boards, a leader in the signage and display industry that provides the latest in conventional, digital and custom signage and display solutions to public and private educational facilities, from elementary, middle and high schools to colleges and universities.
For years now our experts in educational signage and displays have been assisting individual schools, school districts, collegiate institutions and vocational facilities with choosing and implementing the right solutions to help them not only rapidly disseminate school information, but to also create cutting-edge learning environments that help students and attract faculty and benefactors.
Our educational signage experts recommend:
In particular, digital signage at any level of education serves a broad audience. It can be used to list menu items in cafeterias, to sell merchandise in the school store and to convey sport scores, emergency messages, upcoming events and campus news in hallways.
Digital signage in schools is especially useful for providing all-important nutritional information, so students become engaged and can make informed decisions about their food.
With all of that in mind, check out our other educational signage options, such as:
Campus information digital signage.
Lecture hall displays.
Instructional classroom aids.
Calendar and events boards.
School district outdoor information signage.
Emergency alert systems.
Contact Origin Menu Boards today for more information about our products and services and to gain more insight into how we provide signage solutions and support to large and small schools.
We're with you for every step of the project, from management, development and training to configuration and installation. Our services are unmatched in the signage industry. Origin can meet all of your needs and stay within your budget!