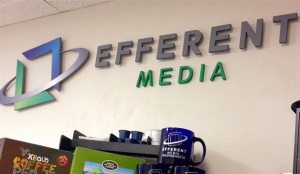 The fastest way to transmit your company's mission, values, current goals and vision for the future to your employees, current customers and potential clients is through cutting-edge corporate displays and signage.
Whether you're a small business owner or a CEO of a large firm, you'll find that it makes sense to be able to easily upload corporate messages to dynamic signage and quickly disseminate information via such displays placed strategically throughout your office space, from the lobby to interior spaces such as conference rooms, employee lounges and break rooms and other common work areas.
Not sure how to make it happen? Simply contact Origin Menu Boards, a leader in the signage and display industry. At Origin, we offer the latest in conventional, digital and custom corporate signage and displays. Our dedicated and expert staff can work with you to match the right leading-edge corporate signage and display solutions with your business needs, your employees' needs, your clients' needs and your financial needs.
To get started, our corporate signage experts recommend:
You'll also be able to maximise the impact of your corporate messages with an array of signage options, including:
Conference room displays.
Professional signage for lobbies and boardrooms.
Building directories.
Employee breaks room/cafeteria TVs and displays.
Trade show product boards, displays and signs.
Origin Menu Boards offers a broad range of services, from management, development and training to configuration and installation, so we can provide you with a corporate signage solution that will fit all of your needs without breaking the bank.
Contact us today Origin Menu Boards at 888-235-2579 for more information and to learn more about how we provide signage solutions and support to large and small businesses in all types of corporate settings