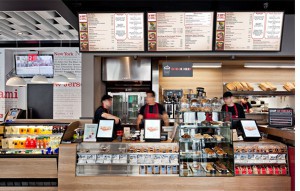 Today's food court business is competitive as shopping centers and malls are increasingly turning to food courts as a way to lure and keep customers shopping at their retail establishments longer, and are always seeking to beef up the food selection, seating and aesthetics to maintain and boost their food courts' revenue-generating status.
As a result owners and operators of today's food court dining concessions know just how crucial high-impact food court signage is to their business model. They understand the right signage and displays can make all the difference when customers are deciding on which place to spend their money and time in between shops.
That's why choosing food court signage solutions from Origin Menu Boards, a leader in the signage and display industry, is a surefire way to help your business get an edge over the competition, especially in the food service industry. With so many options from which to choose, attracting customers to your restaurant is vital.
Each of our conventional, digital and custom signage and display products for food courts – from digital and indoor menu boards to display fixtures – is designed to build the image of your eatery, grow your business and grow profit margins.
Thanks to their years of experience in the food court arena, Origin's food court signage experts can help you augment foot traffic and let your customers know you care with visual statements that add convenience and impact to their fast-food shopping break.
Our food court signage experts recommend:
Our food court signage options also include:
Welcome displays.
Menu board with listings and updates of dining specials.
Special event/announcement signage.
Each step of the way Origin will be right by your side to guide you through the signage selection and implementation process, from menu board display planning, development and marketing services to project management, custom menu board fabrication and digital technology services.
Contact us today for more information about our products and services and to obtain more details about how we provide signage solutions and support for every type of food court concession, from single-unit restaurants to chains.