At Origin it's important for us to not only help you display your menu, but also display limited time offers and other promotions in a unique and fresh way. We provide metal, sturdy, sleek and durable display fixtures that can help generate sales in otherwise unusable space. Get the most out of your real estate whether it's on the wall or on the counter with dynamic easy to change display fixtures.
Need help design and printing custom graphics for your display fixtures? We can help you with that too!
These products are perfect for cafeterias, corporations, educational centers, food courts, health care offices, hospitality venues, stadiums and theaters.
---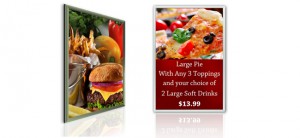 Origin's light boxes maximize the impact for your customers while minimizing the impact on their wallet. With five lines of light boxes and several standard sizes to choose from, we have you covered for all of your illuminated sign needs!

---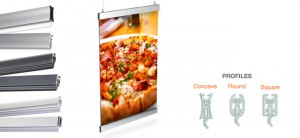 Our graphic holders are a sturdy, lightweight and economical way to swap out prints and posters for specials and promotions.

---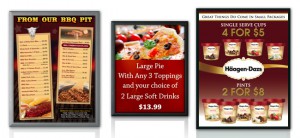 The snap frames accommodate both poster and paper prints under a protective clear or matte lens. All sides snap open for easy change-out of graphics.

---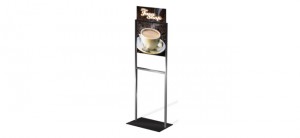 These easy to assemble floor stands can serve multiple purposes. Whether it's advertising store hours and specials or reinforcing your brand, when placed strategically, these signs will undoubtedly make an impact. 

---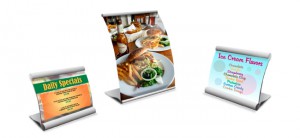 With the window of time to influence purchasing decisions minimal, counter displays are perfect for placement in smaller marketing zones to catch the consumer's eye where other signs will not fit.