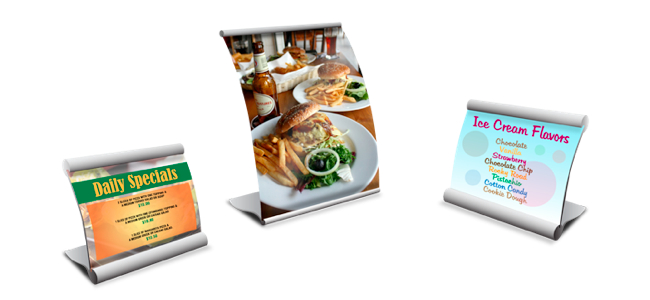 Are you looking to  increase sales at the cash register?  Do you have daily specials that you would like to promote?  Are you running a promotion that no one knows about?  Menu board counter displays can help you in all of these areas.  With the time to influence purchasing decisions at a premium, counter displays are perfect for placement in smaller marketing zones where other signs will not fit.  Origin can help you effectively and strategically use these displays to peak interest and ultimately increase your ticket average. We can also help you design and print custom graphics that will your customers the most impact.
Menu Board Counter Display Features:
All-metal modern construction
Satin silver or matte black
Includes a matte protective lens
Wide range of sizes with custom sizes available
All graphics are customized per order
Sold with or without graphics
To see our display fixtures in all their capabilities, feel free to browse our gallery page! 
Remember we are more than just a place for you to buy display fixtures for your menu boards. We provide our customers with solutions to your menu board needs. Our menu board systems will give your customers an unforgettable experience. A good menu board system influences customers purchasing decisions, and increases your profitability. We are with you for every step of the way including project management and development, to training you on your new system with our marketing and technology services.
For more information about any of our products or services, feel free to give us a call or contact us today!