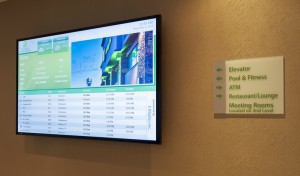 When guests check in at a hotel, resort, timeshare or motel for work or play, they expect a certain level of customer service. They also expect the staff to be knowledgeable and the property to be easy to navigate, as well as expect to find information about everything from check-in/check-out to property facilities and restaurants/bars easily accessible.
That's why so many hotel, resort, timeshare and motel owners and managers and other hospitality executives that run single-unit properties and large regional and national hospitality chains, such as Harrah's in Atlantic City, turn to Origin Menu Boards to take their customer service to the next level.
For many years, Origin Menu Boards has been providing the latest in conventional, digital and custom hospitality signage and displays. We take pride in the fact we're in the signage and display industry. All of our hospitality signage experts have are exceptional at helping hotel owners, managers and executives finding the exact type of signage and displays that not only meet their customers' and property's needs, but also their budgetary needs.
By choosing hospitality signage and displays for hotels, resorts, timeshares and motels from Origin Menu Boards, owners, managers and executives are able to achieve a new level of sophistication and visual impact in high-traffic areas, including entry ways, lobbies and check-in counters. Our signage and displays, which can be customized to match your property's ambience and clientele, proudly caters to your guests' convenience and comfort from check-in to check-out.
We offer hospitality display and signage solutions that do it all from greeting guests in your main lobby and helping them select daily activities to displaying way-finding information and dining and entertainment options. You can even convey local information like current weather and news. Guests will feel as if they have a virtual concierge at their fingertips.
Our hospitality signage experts recommend:
Our hospitality signage options also include:
Lobby welcome displays.
Special events signage.
Dedicated information channel monitors.
Flight information displays.
Local business directories/advertising displays.
Information boards.
Digital wayfinding monitors.
Contact Origin Menu Boards today for more information about our products and to gain more insight into how we provide signage solutions and support to hotels, motels, resorts, timeshares, restaurants, banquet facilities, airports and other types of hospitality establishments.
We offer many different services including custom design, project management and development, configuration of our content management system, installation, as well as in-depth training so you can get the most out of your new signage and displays.