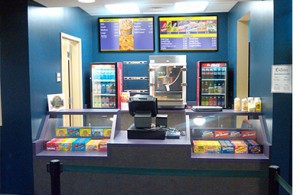 Stadium officials and concert and event planners have quite a responsibility when it comes to ensuring an optimal customer experience at their venues, every single time.
The right signage and displays are crucial at stadiums and other large public and private, event-based venues because it needs to not only accurately direct event-goers to and from seating sections, food vendors, restrooms and parking, but also quickly broadcast current and upcoming event information as well as guide them to opportunities for the venue to generate on-site sales.
This is where Origin Menu Boards can be of service. A leader in signage and display industry, Origin can help stadium officials and event venue planners meet the needs of the largest stadium and event crowds with the latest in conventional, digital and custom stadium signage and display solutions for venues that provide the flexibility required to easily and quickly present targeted messages and information to any type of audience. At the same time we can provide high-impact signage that's wrapped in a personalized tone.
We can also help stadium officials and event planners choose the right digital menu boards that will help them quickly and effectively change content so that they can easily switch gears each day to cater to every type of crowd your stadium events draw, from those attending the latest monster truck rally or football game to those attending the latest Nick Jonas, Andy Grammer, Taylor Swift, Meghan Trainor, 5 Seconds of Summer or One Direction concert.
Furthermore, our event signage can help engage and entertain audiences every time, no matter the event, and our signage and display experts know just how crucial design and placement is in this process. Choose from our vast selection of cutting-edge signage technologies for crowd communication and control.
Our stadium signage and venue signage experts recommend:
Our stadium signage options for concert halls and event venues further include:
Display information monitors.
Boards for seating sections.
Food vendors.
Restrooms.
Origin doesn't just stop at providing signage and display solutions for stadiums, concert halls and event venues. We pride ourselves on going one step farther, and provide in-depth signage services that range from helping design your new system and assisting with configuration and installation to offering hands-on training to ensure you get the most out of your new signage and displays.
Please contact Origin today to learn about our wide variety of products and services, and to obtain more details about how we provide signage solutions and support for every type of stadium and venue, large and small. You can also rest assured Origin can meet all of your needs and stay within your budget!