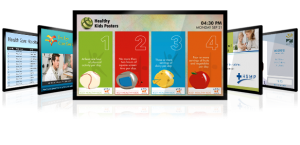 American health care is a fast-paced environment these days, filled with evolving technologies, techniques, treatments and medicine. It's also moving like a juggernaut toward sophisticated patient information programs.
Thus, it makes sense that while patient care is constantly advancing, the way patient information is managed, shared and reviewed by medical professionals, hospitals, urgent care centres and doctors' offices is rapidly transforming.
What's also changing quickly is the way medical information is delivered to patients, from patient portals to informational displays in waiting rooms and hospitals. The best way for doctors and other health care providers to keep up with all of the changes in the medical field with regard to patient information is to install cutting-edge health care signage and displays.
That's why so many turn to Origin Menu Boards, a leader in the signage and display industry, for conventional, digital and custom signage and display options that efficiently assists patients, visitors and staff. To get started, our health care signage experts recommend:
Our health care signage options also include:
Waiting-room display and videos.
Informational monitors.
Hospital directory displays.
Way-finding displays.
Emergency code displays.
For more information about our products, please contact Origin Menu Boards today. Our expert staff can answer all of your questions and explain in further detail how we provide signage solutions and support to health care providers.
We also have the reputation of providing in-depth services that range from management, development and training to configuration and installation. In addition, we can customise your health care signage and displays to match your exact specifications while staying within your budget.