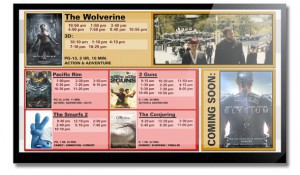 Want to immediately capture the attention of movie-goers and film buffs? Wondering how to enhance their theatre experience so they keep coming back for the ultimate visual cinema experience they can only get at movie theatres?
Then visually arresting, top-of-the-line theatre signage and displays from Origin Menu Boards that will take their movie-going to the next level while keeping them engaged and informed is your best bet.
Origin Menu Boards, a leader in the signage and display industry, provides the latest in conventional, digital and custom signage and display solutions to theatre owners and managers seeking to boost concession sales, keep patrons engaged while they line up to buy tickets and streamline ticket sales to reduce customer queues.
Our experts offer superior knowledge about theatre signage and displays. As a result, they can help you choose the right signage and displays to achieve all of this and more while matching them with your theatre's needs and budget because they understand that the more patrons you serve faster, the greater your profit margins are!
Our signage and displays have a multitude of applications in theatres, such as promoting upcoming award-winning films, riveting documentaries and blockbuster movies, and listing accurate show times. They can also help you highlight limited-time specials, menu items and point-of-sale merchandise at the concession stand and ticket counters.
Our theatre signage experts recommend:
Our theatre signage options also include:
Current playlist display.
Coming attractions display.
Local in-theater advertising/promotions.
Menu boards for concessions.
Movie menus for ticket counters and lobbies.
Contact Origin Menu Boards today for more information about our products and services, as well as to learn more about how we provide signage solutions and support for all movie theatres, from local, single-unit operations to regional and national chains.