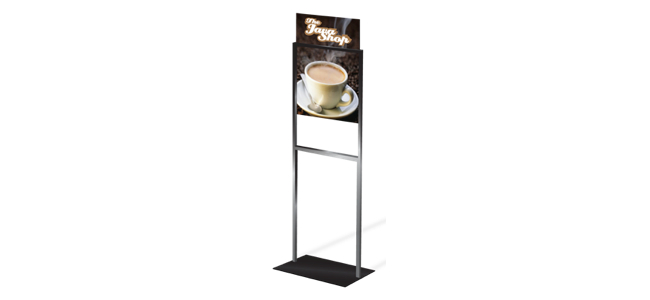 These easy to assemble menu board floor stands can serve multiple purposes.  Whether it's advertising store hours, promoting limited time specials, showing off new menu items or even reinforcing your brand, when placed strategically, these signs will undoubtedly make an impact.  Placing floor stands in seating and waiting areas, between separate entrance/exit doors, and on either side of stanchion line-ups assures maximum exposure for your message.
Do you need help designing and printing custom graphics? We can help you with that too!
Menu Board Floor Stand Features:
Durable black powder-coated steel construction with stable steel base plate
Minimal assembly, no tools required
Displays a 22″ x 28″ poster on each side
Purchase poster stand with or without custom printed poster insert
Single or double sided 22″ x 28″ poster insert – All graphics are customized per order
Wet erase single or double-sided 22″ x 28″ insert; includes set of five markers (alternative option)
Literature pockets optional
10 day lead time
To see some more examples of our display fixtures, including menu board floor stands, check out our gallery page! 
We are more than just a place for you to buy menu board products. In fact, we provide you with menu board solutions. From indoor menu board, drive thru menu boards, to accessories like display fixtures and custom printed banners and graphics, we will help you transform your space so you can get the most of our your new menu board system.
For more information about menu board floor stands or any of our products, feel free to contact us now!