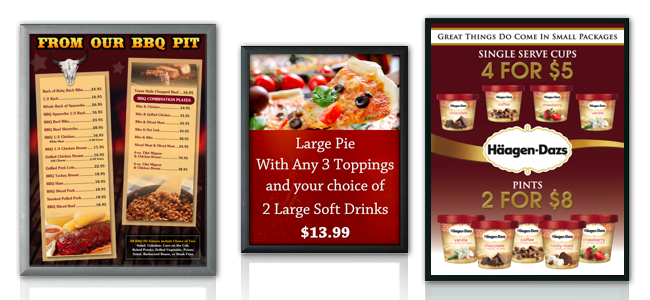 The snap frames accommodate both poster and paper prints under a protective clear or matte lens.  All sides snap open for easy change-out of graphics.  Updating your graphics has never been so easy. Depending on your needs, you can use our poster frames for a variety of applications. These can be a very effective tool for advertising on walls, windows, doors or even as an economical menu board solution. This is ideal for businesses who have breakfast and lunch/dinner menus and need an easy way to change their graphics!
All frames come in a wide variety of sizes so we can accommodate any size print or poster! If you need help designing and printing your custom graphics, we can help with that as well.
Snap Frame Graphic Holder Features:
Aluminum frames: 1-1/4″ wide, 9/16″ deep
Accepts posters and paper signs up to 1/32″ thick
Rigid plastic backing
Clear or matte overlay lens included
All graphics are customized per order
Vertical and horizontal mounting holes
Four wall screws and anchors
10 day lead time
Look through the gallery to see more examples of our display fixtures including our snap frame graphic holders!
We can help you get the most out of your graphics, as we will sit down and plan the best locations of your snap frame graphic holders. When in the right spot, dynamic graphics can influence your customers purchasing behavior, having them make decisions quicker. Faster customers, means more customer served which means more profitability!
For more information about any of our products feel free to contact us!