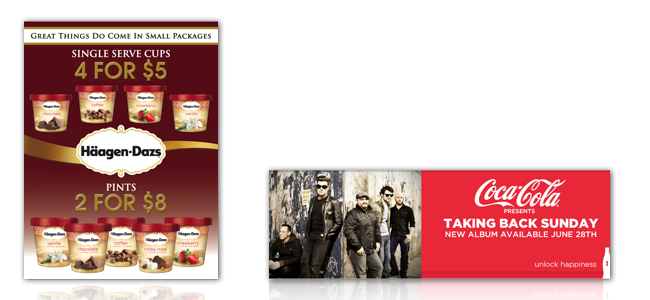 Banners come in many shapes and sizes and help serve many advertising needs.  Origin has solutions that will stand the test of time against the elements outdoors as well as those that compliment and reinforce messages being deployed indoors amongst more cozy confines. Much like counter displays and window graphics, nothing spurs spontaneous buying behavior quite like a well designed and intelligently hung banner for a reasonable cost.
Types of Banner Fabric
Scrim vinyl: Our most popular material, scrim vinyl, is made of a strong nylon mesh covered in vinyl. This material not only offers durability – it delivers it. This vinyl has a 3-5 year life span when continuously used outdoors, and a 7-10 year life span when continuously used indoors.
Fabric: Colors turn out exceptionally vibrant on these fabrics for an eye-popping display. Banners and backdrops are among the products that we can make with these materials.
Mesh: There are criss-crossed fibers which create a printable surface. Much like mesh fabric, you can see through this material to some extent but still also see the printed graphic. This material is commonly used for outdoor banners along fences and in between poles.
Interior and Exterior Banners for Restaurants Features:
Hanging versatility – grommets for walls and loops for hanging from poles, banner stands or graphic holders
Indoor and outdoor solutions available
All banners are customized per order
Semi-gloss and matte finish options
To see some of our other graphics and banners, feel free to use the gallery page.
For more information about any of our products and services, don't hesitate to contact us!