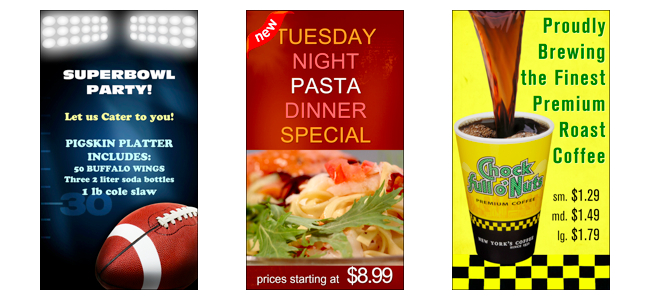 Posters are the most traditional form of point-of-purchase signage and are still commonplace in almost every quick service restaurant. The reason being is that they tend to be the least expensive form of marketing.  The effectiveness of posters depends largely on the design and positioning within the location. Whether they are being directly mounted to a wall or window or snapped in to a frame, the results are minimal without a clear message.  Origin's designers will work with you to bring your vision to life while relying on their expertise in the industry to distribute an optimal message.
Posters can be used for a variety of reasons such as promoting a limited time offer or special sale. They can be used strategically to reinforce branding as well as a way to help your customer navigate your store to areas such as soda dispensers and bathrooms.
Menu Board Posters Features:
Glossy or matte finish
Can send own design files for print
No size limitations
All posters are customized per order
To see all of our promotional materials including posters in action, feel free to view our web gallery by clicking here! 
We are more than just a place that prints graphics. We offer a variety of custom menu board solutions and will work within your budget to satisfy your needs. We offer many different services so you know Origin will be with you every step of the way from project development to installation and marketing services.
For more information – contact us now!