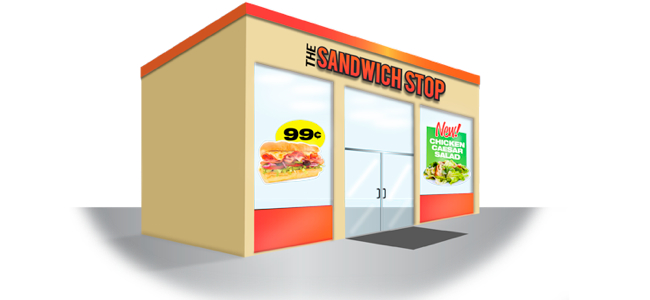 Origin's window graphics are limitless both in terms of design capabilities and the impact that they can have on your customers and prospective customers.  Whether they are ahdered to the windows facing your customers that are sitting to eat, or towards the foot traffic of passers by, these graphics definitely make an impact.
Window graphics are known to silently reinforce brands, while also introducing new items and promote specials or limited time offers. They can also help influence customers decision making purchase orders faster, customer wait time less, meaning more customers served, and therefore an increase in profitability!
Menu Board Window Graphic Features:
Easily removable – leaves no residue
Two view capabilites
Perfect for use in high impact/traffic areas
Contour cuts available
All graphics are customized per order
Wide range of sizes
To see our promotional products and window graphics in action, take a look at our gallery page! 
At Origin Menu Boards we are more than just a place to buy menu boards. We are here to help you make the most of your signage and displays. We offer numerous products from menu boards, graphics, floor stands and even drive-thru menu boards and communication devices. We are also know for having unbeatable customer service and can give you the best menu board solution within your budget. We are with you every step of they way from concept, to project development, to installation to marketing services.
For more information about any of our products or services, don't hesitate to contact us!