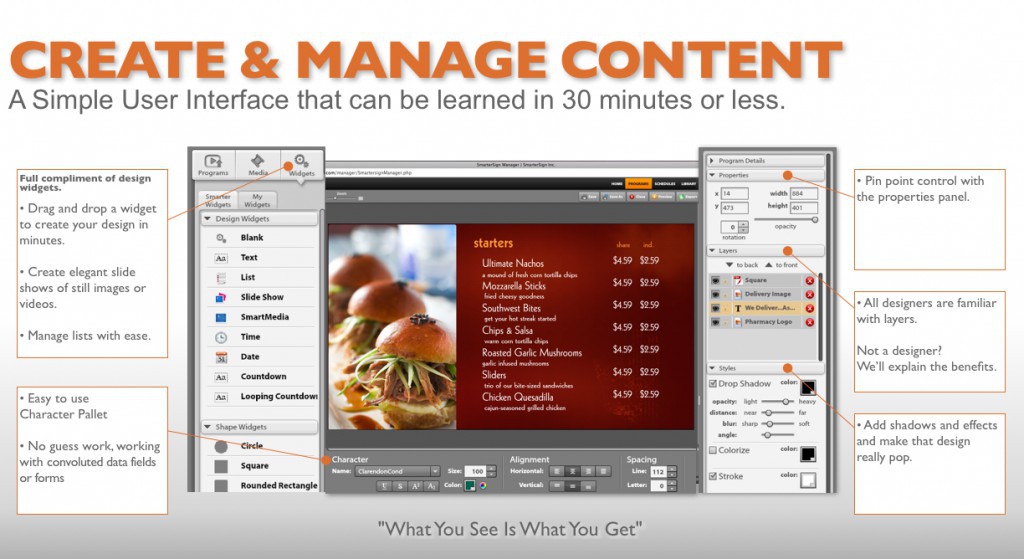 There is no question that the future of in-store signage is digital. As a result, many have tried and failed to create a digital menu board or digital signage solution. There are several reasons why so many have fallen by the wayside – the system is too expensive, the user has no control, it is too confusing to use, it doesn't meet the needs of the end user, and the list goes on and on. Our Origin Elite digital menu board puts all of these concerns to rest.
Updating your menu, controlling multiple locations, scheduling for day parts, and introducing new specials and promotions has never been so easy. The need for designers, programmers and integrators is no more. The development of this software had the end user's best interests in mind and the ease of use is such that anyone can use it no matter what their technical expertise.
Let's face it, any digital signage company will promote good looking content.  After all, "Content is King." But what happens when you need to change that content? Origin Elite helps you avoid the pitfalls that so many have tripped over.
Click here to request a FREE DEMO!
Origin Elite Digital Menu Board Features:
With just 15 minutes of training, you can be up and running with easy and intuitive tools
Web-based management tools enable remote management of any size network
Easy to deploy and designed for a very low Total Cost of Ownership
Flexible enough for use by any industry and powerful enough to meet the most demanding needs
Drag-drop interface makes it easy to manage design and content
Integrated media library for images, animations and video
Quick preview lets you view sequences
Secure Internet application lets you manage your signage network from anywhere in the world
File format support for the most popular image, animation and video formats (gif, jpg, png, swf, flv, avi, mov, wmv and more…)
Data feeds including news, sports, weather, RSS and any Internet accessible data source
See some examples of our digital menu boards in our gallery!
To learn more about the benefits of the Origin Elite digital menu board feel free to contact us!