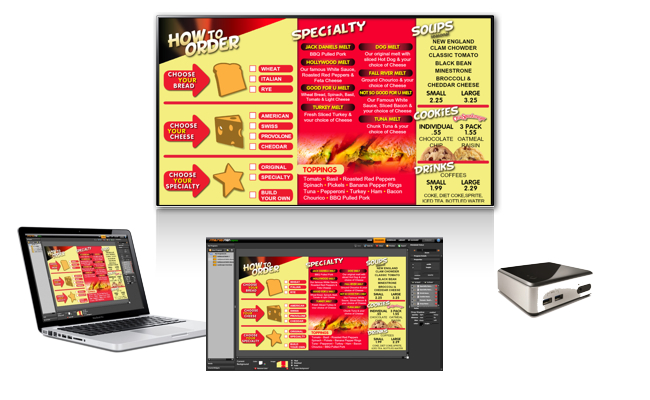 The Express package is the lite version of the Origin Elite platform that has been offered for years. Our Origin Express digital menu board is made up of one-part media player and one-part software. This fills a void where people are looking for a single screen solution at an extremely low-cost of entry while not compromising on functionality and capabilities.  Custom designs, a configured media player,  scheduled content, and playlist set up is provided so the system it is plug-and-play ready. If you need to change menu item prices or update sales and promotions, you no longer need to wait for new graphics. You can make the changes in a matter of seconds! We understand how important consistent branding is across all platforms which is why this is an ideal selection for your digital menu board due to the fact that's easy customizable.
Click here to request a FREE DEMO!
To see some examples of our digital menu boards check out our gallery!
Features:
Web-based management tools enable remote management
Ideal for single screen applications
Drag-drop interface makes it easy to manage design and content
Integrated media library for images, animations and video
Quick preview lets you view sequences
Secure Internet application lets you manage your signage network from anywhere in the world
File format support for the most popular image, animation and video formats (gif, jpg, png, swf, flv, avi, mov, wmv and more…)
1G of storage
Comes with templates that can be adjusted to meet your needs
Unlimited web and email support
For more information about the Origin Express from Origin Menu Boards don't hesitate to contact us now!