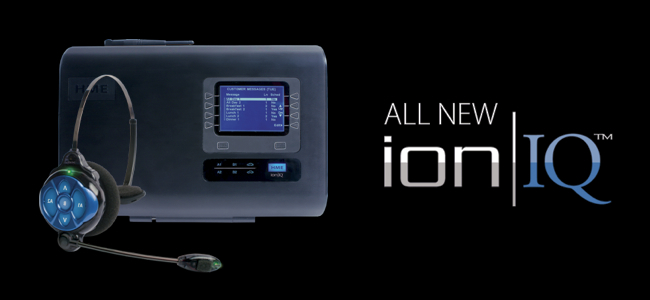 Think Small: Half the size of any all-in-one (AIO) drive-thru headset on the market. The ION IQ AIO headset is super-compact, super-lightweight and brings unparalleled balance and comfort to users.
Greater Reliability: Its unique design means fewer moving parts and greater reliability. Constructed with diecast parts, for even greater durability over time.
Better Sound Quality: Featuring a highly directional microphone that isolates sound better and delivers superior clarity every time.
Expanded Coverage: Above and beyond other headsets, reaches into far areas of the parking lot and resists dropouts and interference caused by stainless steel and walk-in coolers.
All in One Drive Thru Communication Headsets Features:
ION IQ enhances drive-thru sound from the moment a customer speaks into its voice-optimized-microphone — specifically designed to recognize and replicate the human voice and improve intelligibility.
Enhanced noise and echo cancellation virtually eliminates distracting noise during communication, to provide more accurate order taking.
Automatic Noise Control (ANC) instantly quiets inbound sound when the customer is not speaking, improving listening comfort for employees.
Automatic tuning and digital controls ensure your system is always set at the optimal levels for clear communication and allows for easy duplication of settings across multiple locations.
ION IQ's acoustically tuned speaker, designed specifically for the drive-thru, dramatically reduces distortion to deliver the clearest, most intelligible communication to the customer.
Accommodating timer systems are available as well
For more information about any of our drive thru communication products, drive thru menu board products or any of our services feel free to contact us!