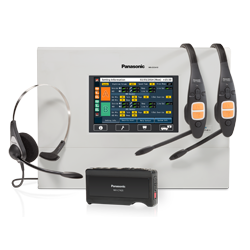 The Attune II Audio System is one of the best choices for your drive thru menu board communication. With this system you can transform a noisy restaurant into a calm atmosphere, where every order comes through clearly and accurately.
Most headsets are able to suppress low frequency noises like buzzing or humming. What makes this system different is the fact that it can also omit high frequency noises like horns and sirens. Putting this headset on is like turning down the volume inside your restaurant. Get their orders right the first time! More efficient orders means less waiting time which means happier customers and better profit margins.
It's also one of the must durable brands on the market. The Panasonic Attune II has heavy-duty buttons and is fully sealed. It's designed to be resistant to kitchen staples such as oil, water, and kitchen grease. It's even capable of taking 1,100 lbs. of crushing force and still keeps working!
View PDF Brochure here for more information!
Panasonic Drive Thru Communication System Features:
Active noise cancelation
1.9-GHz Digital Enhanced Cordless Telecommunications (DECT) – Attune II operates on the restricted, DECT band — not the 2.4-GHz band other headsets share with Wi-Fi and cellphones
9/16" wide durable headband that's stain resistant
Crush-proof and spill-proof
Complete system comes with Attune Center Module, Attune, All-In-One Headset (AIO), Belt Pack Order Taker,
Wired Headset for Beltpack, and Speaker/Microphone.
If you are interested in learning more or would like to request a free demo of any of our products, contact us now!