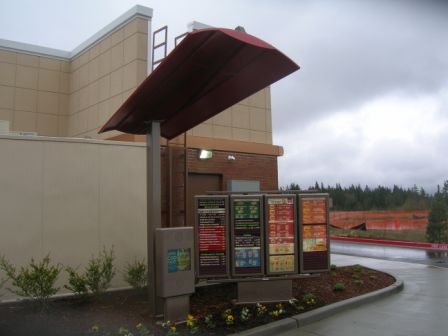 Don't miss out on drive-thru sales because of the weather! When it rains, your customer might opt to use your drive thru to make their purchases, but when they roll down the window, make sure they stay dry and happy! Our outdoor, stand alone canopy provides comfort and security for your drive-thru customers.
Drive Thru Menu Board Canopies Features:
All metal parts are made of high-grade, zinc-rich primed and powder coated steel
The roof is made of ultra durable, fade resistant, maintenance-free vinyl
Color choices include – 7 standard colors for the metal parts (red, silver, copper, black, white, tan, blue) and 5 standard colors for the vinyl roof (black, grey, red, tan, blue). Custom colors are available for an upcharge and longer lead time.
Options include: (1) pole mount speaker and microphone kit ; (2) three-lamp light fixture; (3) below ground foundation kit; (4) rotating "swing away" roof design
The unit is wind load rated for up to 110 mph
Two year limited warranty or 8 years for the vinyl
The unit is shipped in two parts: (1) pole and (2) roof assembly via common carrier
10 day lead time
To see some of our drive thru menu boards view our gallery page!
At Origin Menu Boards, we help you select the best drive thru menu board products to create the ultimate system that fits not only your needs but fits your budget! We can combine any of our drive thru main units, add-ons such as wings and toppers, presell boards and other accessories like speaker posts and clearance bars to make you and your customer happy!
For more information contact us now!