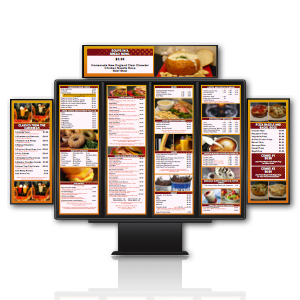 Did your menu expand and you need to feature more items? Do you have a special promotion that you want feature? Adding wings to your drive thru menu board main unit can really help get your message to your customers without the hassle of buying a new unit or spending time on reconstruction! Our wings allow you to change your content and graphics easily whenever you want.
This 18 inch wide panel will attract your customer's attention and help reinforce your brand to new and old customers. All of our add-ons come with LED backlighting, making your new menu item or promotional special really stand out from the rest of the menu.
Need help creating promotional posters and banners? We can help with that too.
Wings Drive Thru Menu Board Add-On Features:
Ideal to promote specials and limited time offers
Gain valuable real estate for your graphics
Can be fastened to either side of the drive-thru
Reinforce your brand
Capable of housing strips and digits
LED illuminated
Standard color matching to main drive-thru unit
To see some great examples of how wings can make a different to your menu board main unit, check out our gallery!
Don't forget about our other drive thru menu board products like fixed or rotating main units, fixed or rotating presell boards, and other drive thru accessories like speaker posts, clearance bars and canopies. Keep in mind that we are more than just a menu board distributor! We work with you on your project from beginning to end and offer a bunch of services!
For more information or to request a free demo, feel free to contact us now!