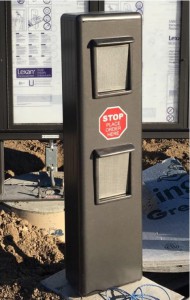 A fully functional drive thru is more than just a menu board. There are several different elements that are needed to give your customers the best experience. Nothing is more frustrating when you can't hear your customers and your customers can't hear you. Make sure you can be heard by having a start of the art drive thru menu board speaker post. 
Our stand-alone metal speaker post is available in seven colors – blue, red, black, white, tan, silver, copper, so it will match any of our drive thru menu board main units. The unit is made of maintenance-free aluminum. Purchase it with or without duplexing speaker and microphone kit. A duplexing system allows for "real time" communication between the customer and employee which speeds the order-taking process. Our drive thru menu board communication systems are compatible with the speaker posts.
Drive Thru Menu Board Speaker Posts Features:
Aluminum construction
Weatherproof design
Microphone and speaker slots
Blue, red, black, white, tan, silver and copper coat standard finishes
Custom finishes available
To see some examples of our drive thru menu boards, take a look at our gallery!
Don't forget to view our other drive thru menu board products such as main units, presell boards, add-ons and other accessories like canopies and clearance bars. Keep in mind, we are more than just a seller of menu boards. We work with you to give you the best solution that fits within your budget.
For more information about our products and services don't hesitate to contact us!