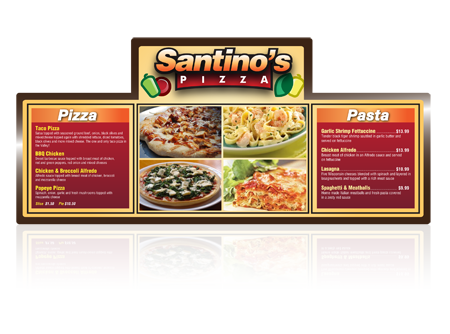 Origin Apollo is the most versatile and easy-to-use modular, backlit menu board system available. Our lightboxes are completely modular, which means youc an choose from a variety of sizes and mix them horizontally or vertically, portrait or landscape, in any combination to fit your menu board needs. When combined with multiple panel configurations, the design possibilities are endless. You are also giving your customers a great experience by providing them easy to read menu boards.
Apollo Backlit Menu Board Features:
8 stock lightbox sizes
High quality injection molded black plastic housings
Energy-efficient T8 fluorescent lighting package
Patented modular design
Hinged door panel protects graphics and allows for easy access
4-digit price carrier holds individual price chips for easy price updates
Over 50 menu panel configurations
Variety of trim styles and colors
Includes custom toppers
UL listed
10 day lead time
 To see all of our different indoor menu boards including some of our backlit menu boards, browse our gallery page!
We are more than just a place to buy your menu boards. We provide a full range of services including project development, project management, marketing and technology services as well as custom fabrication. We can provide you with the best menu board solution that works within your budget and serves all of your needs.
Don't forget we also have other indoor menu board products as well as other styles of backlit menu boards that will match any interior decor!
For more information about our products or services, feel free to contact us for a FREE consultation and demo!