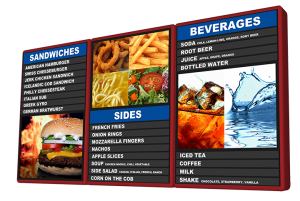 The Bistro backlit indoor menu board series provides a more contemporary approach to your menu display at a surprising low cost. Each modular line cabinet, available in 14 and 20 line sizes and 7 color options, can be independently displayed or positioned with several cabinets for a limitless array of patterns. These menu boards are internally illuminated and can be configured in a series of up to 4 units.
The easy to operate front loading display system will always ensure the most versatile and consistent appearance allowing you to change menu items, prices and graphics! You can easily customize your menu board in seconds! Need help designing and printing custom graphics? We can help with that too!
Bistro Backlit Menu Board Features
Cabinets with 14 or 20 line sizes
7 colors available: scarlet, cobalt, latee, honey, sterling, onyx and coal
10 day lead time 
To see more example of our indoor menu boards, check out our gallery page!
Here at Origin Menu Board, we are more than just a place for you to purchase your indoor or drive thru menu boards, in fact, we offer a plethora of services including display planning, project management and development, custom fabrication, technology service as well as marketing services.
We are with you every step of the way from conception to installation, and to even support. This way we can ensure that all your menu board needs are being met while also working our hardest to stay within your budget.
For more information any of our menu board products or services feel free to contact us!