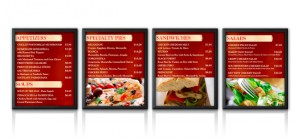 Origin Liberty backlit menu boards feature a slim, snap frame design for mounting your menu graphics to a wall or any flat surface. They come standard with a snap-open feature allowing you to change your graphic instantly without any difficulty. Simply flip open the molding to slide in your graphic. This makes updating your menu or changing from breakfast to lunch/dinner menu a breeze!
This menu board is not just for restaurants but can serve a variety of other markets as well including areas of high volume such as public transit locations, shopping malls or retail stores! Feature new items or new sales and promotions. We even provide these light boxes with two mounting options so you can display in both landscape and portrait formats.
The LED's will last up to 50,000 hours, providing an energy saving, environmentally friendly, advertising solution. Need help printing, creating, or designing graphics? Take advantage of our banners and graphic services!
Liberty Backlit Menu Board Features:
Less than 1" deep
Front image loading with all side snap front frames
Stock sizes: 16″ x 20″, 22″ x 28″, 24″ x 36″, 30″ x 40″, 36″ x 48″
Custom sizes and finishes available
All graphics are customized per order
Remote power supply included
UL listed
10 day lead time
 To see some of our backlit menu boards and other indoor menu boards, browse through our gallery page!
We offer more than indoor menu board products or other backlit menu boards, we are known for providing hands on service and helping our clients meet their menu board needs that fit within their budget.
For more information about any of our products, don't hesitate to contact us today!