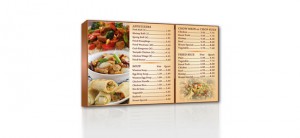 Origin Trinity is an easy-to-use modular, backlit menu board system.  The graphic design area is 15-20% greater than standard strip and digit menu boards.  Also choose from a variety of sizes and mix them horizontally or vertically in any combination to fit your needs providing you with multiple panel configurations! The design possibilities are limitless. We provide you with Lo-tac changeable pricing to make sure that you still have flexibility of making changes to your menu!
We can also help you design custom graphics to fit your menu board!
Trinity Backlit Menu Board Features:
Lightbox sizes: 18" x 18", 18" x 27", 27" x 27"
Super bright, "green" energy-efficient lighting components
Clear acrylic face panel creates unique edge-glow
Edge-to-edge full graphic coverage
Easy-to-change translites flex-in from the front
Lo-tac changeable pricing is included
Hinged panel allows easy access to lamps
All graphics are customized per order
Flush wall, angle wall, or ceiling hang mounting options
10 day lead time
 To see some examples our indoor menu boards as well as our backlit menu boards browse our gallery!
With so many different types of backlit menu boards and other kinds of indoor menu boards, it can be overwhelming to select which is the best option. We provide hands on service that allows us to take manage and develop your project providing you with a custom menu board solution that will meet all of your needs as well as stay within your budget!
If you have any more questions about our products or services, feel free to contact us!