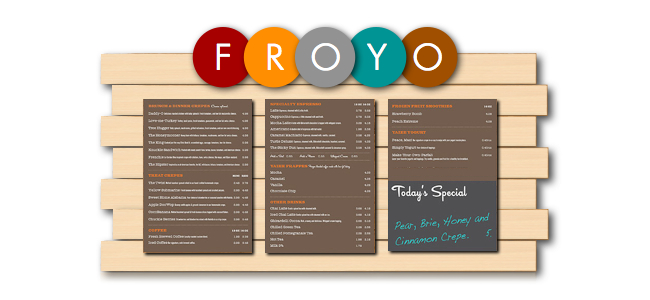 One thing that makes Origin Menu Board unique is the fact that we have the capability to print custom banner and graphics. To accomplish your goals, we can print custom graphics on a backboard and then attach the menu board framing around the image. In addition, menu boards can be applied directly to the backboard or, to add some depth, they can be cleated, allowing removal for easy graphic updates. Other menu board options include full or mini flex covers and wet-erase inserts.
Decorative toppers and accent lug-ons can be added for special effects and dimension. The finished boards can be wall mounted with cleats or hung from the ceiling using our standard black chain kit. We understand that consistent branding is important and your menu boards should reflect the interior decor and colors of your business. We can help you design something that fit your needs and your budget.
Custom Magnetic Menu Board Features:
Custom sizes and shapes
Direct mount or cleated menu panel options
Menu panel can include full graphic, magnetic pictures, text strips, price chips or flexcover style with poster insert
Dimensional accent lug-ons available
Wall mount or ceiling hang
Larger boards ship via common carrier
To see more examples of our indoor menu board capabilities, browse our gallery page!
Remember we are more than just a place to buy menu boards. We work with you one on one and offer many different services to make sure you are making the most out of your new menu board display!
For more information on any of our menu boards whether you need digital, drive-thru, backlit or magnetic, feel free to contact us.