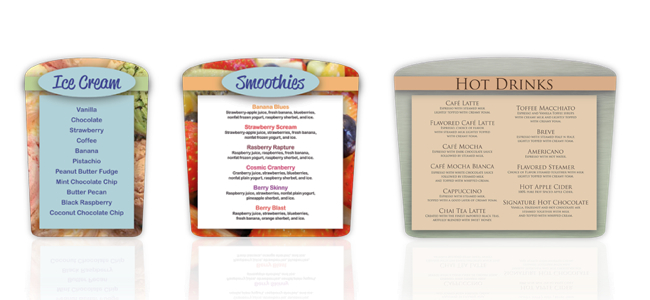 The tablet-shaped magnetic menu board is 1/2″ thick material and offers three types of finishes – any 4-color graphic image, golden oak or cherry oak wood veneer, brushed brass or brushed silver metallic laminate. The backboard is available in three sizes and can be wall mounted or ceiling hung. Each backboard includes a header band holding a custom size and shaped decorative topper. The header band is convex and bows out from the backboard for added dimensional appearance.
The menu boards are the same as our other front-lit magnetic menu board products and include metallized magnetic strips, graphics, and price digits as well as the full flex cover option to hold poster prints. Need help creating and designing graphics? Take advantage of our banner and graphic services!
Maxim Magnetic Menu Boards Features:
Tablet-shaped backboard in three sizes
Three backboard finishes – 4-color graphics, wood veneer or metallic laminate
Dimensional, interchangeable menu boards with magnetic pictures, menu strips, price digits or flexcover style with poster insert
Convex, decorative header band
Accent toppers
Wall mount or ceiling hang
10 day lead time – get your menu board quickly! 
 To see more of our indoor menu boards, check out our gallery!
 We provide numerous styles of magnetic menu boards as well as different types of indoor menu boards. We also provide our customers with different services including project management, project development, marketing and technology services as well as custom fabrication!
If you have any questions about any of our products or services feel free to contact us now!