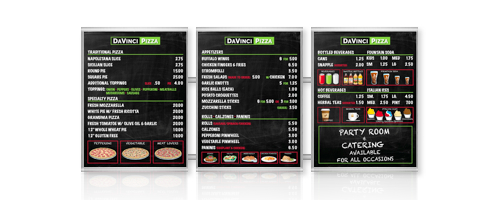 The Metro Menu Board Series is a cutting edge solution that accounts for everything you could possibly be looking for in a magnetic menu board system. These menu boards have a sleek look, multiple face styles and design options, and it arrives fully assembled which makes it easy to install. It's also one of our most affordable options that Origin Menu Boards offers its clients.
Need help designing and printing custom graphics for your new menu board? We can help you with that too! When you purchase any of our products you have access to some of the industries top designers as well as our renowned customer support.
Metro Magnetic Menu Board Features:
Available sizes – 17″ x 24″, 32" x 24", 17" x 32", 24″ x 32″, 32″ x 32″
Light-weight stainless steel construction
Easily expandable hanging system(s) included – ceiling suspension, flat wall mount, angled wall mount
Graphics choices include easy-to-change full magnetic graphics or magnetic menu strips and price digits
Menu boards arrive complete and ready for installation
Front-lit goose neck lighting option
10 day lead time after layout approval
Take a peek at our gallery to see more of our indoor menu boards!
We have several other indoor menu board options as well as different magnetic menu board styles. We also provide our customers with a number of services such as custom fabrication and project management ensuring that you will get the menu board solution you need that fits within your budget.
For more information about any of our menu board products including indoor and drive thru menu boards, contact us!