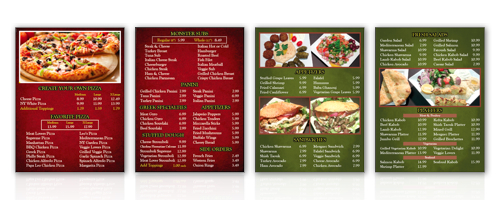 The Ultra Value Magnetic Menu Board Series was developed to accommodate those working within a limited budget who would like a professional menu board that offers visually appealing full magnetic graphics as well as flexibility. My influencing your customers decision you decrease overall wait time, help serve more customers faster and therefore have higher profitability!
These menu boards are constructed of 1/2" high density PVC for long-lasting durability and are flexible enough to install in either landscape or portrait. If you need help with printing or creating custom graphics for your menu board then we can help with that as well!
Ultra Value Magnetic Menu Board Features:
Conveniently sized at 22" x 28" and 22" x 22"
Constructed of durable 1/2" PVC sign board
Simple cleat mounting system
Flexible install in either landscape or portrait
Visually appealing full magnetic graphics
Custom sizes and finishes available
Browse our indoor menu board gallery to take a look at some of our indoor menu boards!
At Origin Menu Boards, we are more than just a place to buy products. We offer many different services that can be of value to you and your business. We provide project management, project development, marketing services as well as custom fabrication.
And don't forget we offer several different types of indoor menu boards as well as many different magnetic menu board products. We can help you build a menu board solution that will not only fit your needs but also fit your budget!
For more information about any of our products, feel free to contact us!