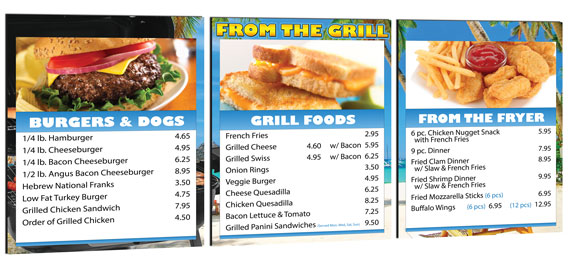 The Value Magnetic Menu Board Series is Origin's runaway leader in popularity due to its durability, design capabilities and economical price. Constructed with proven materials that stand the test of time, you can rest assured that you'll be satisfied for years. The graphics are printed as one full sheet so that there are no seams or crooked strips. It also allows for much greater design flexibility using gradients, water marks and cropped imagery. Updating prices? Contact Origin for a new magnetic graphic within days. The cost? No more than what 4 magnetic strips would cost you. The choice is clear; VALUE and flexibility for an affordable price!
Value Magnetic Menu Board Features:
Conveniently sized at 18 x 24, 18 x 32, 24 x 24 and 24 x 32
Constructed of durable 1/2" PVC sign board
Simple cleat mounting system
Limitless background images to choose from
Flexible install in either landscape or portrait
Visually appealing full magnetic graphics
Easy swap out for day parted menu items
Custom sizes and finishes available
To see more of our indoor menu boards, browse our gallery!
We offer so many varieties of indoor menu boards as well as different styles of magnetic menu boards that can be used to meet any of your needs. Not only that, we work really hard to make sure our menu board solution will stay within your budget. We offer a wide range of services from custom fabrication to project management which make us stand out from our competitors.
For more information about any of our products, feel free to contact us.