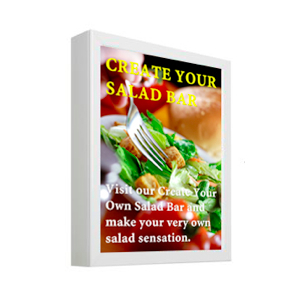 The front access model is mainly designed for those customers who look for exceptional illumination, high quality and front access. This light box allows you to change designs very easily. It has orientation in both horizontal and vertical directions. It's the perfect solution for people who need to change their graphics on a frequent basis. It also comes in 14 popular frame sizes but custom sizes are available.
Need help printing or designing custom banners or graphics? We have the capability of assisting with that as well.
Front Access Menu Board Light Box Features:
Durable, aluminum construction
Light weight and easily transported
Backlit use readily available T8 or T12 fluorescent lamps
ADA compliant
Stock sizes – 11″ x 14″, 16″ x 20″, 20″ x 24″, 20″ x 30″, 22″ x 28″, 24″ x 24″, 24″ x 30″, 24″ x 36″, 24″ x 48″, 24″ x 60″, 30″ x 30″, 30″ x 40″, 36″ x 36″, 36″ x 48″, 43″ x 62″
Custom sizes and finishes available
UL listed
For more examples our display fixtures including light boxes, feel free to browse through our gallery page!
At Origin Menu Board, we are more than a just a place to buy products. We provide you with menu board solutions that will meet all of your needs from indoor menu boards, to hardware, software, display fixtures and everything else in between. We sit down with you and train you on your new menu board system so you can get the most leverage.
We offer many different styles of light boxes for menu boards so we can find one that is perfect for your business.
For more information about any of our products, feel free to give us a call or contact us today!