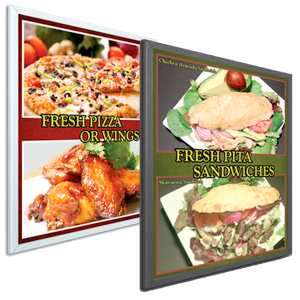 The premium LED light box offers bright, white illumination which helps draw attention to your sign or image. These light boxes are ideal to use in restaurants, airports or train stations, and retail stores. Powered by innovative LED technology, this light box offers bright, even lighting in our thinnest profile ever! Measuring less than 1″ thick, this light box is one of the most elegant on the market. The premium LED product uses a 12- or 24-volt power source and lasts up to 100,000 hours – more than five times the life of most fluorescent lamps. It features aluminum construction with an anodized silver finish, and is available in four standard sizes.
Premium LED Light Box Features:
Ultra thin profile – less than 1" deep
Snap face frame for tool-free, easy graphic changes
High quality, durable, lightweight aluminum construction
Energy-efficient
ADA compliant
Stock sizes – 22″ x 28″, 24″ x 36″, 30″ x 40″, 36″ x 48″
Custom sizes and finishes available
Clear cover sheet include
2-year warranty
UL listed
To see more examples of our display fixtures including light boxes, check out our examples page!
Our company is known for providing the best menu board solutions to your business including the latest in technology for menu boards as well as display fixtures. Don't forget to browse through our other types of light boxes to help you find the best product for your needs.
Also, we offer many different services to help you with any of your indoor or drive thru menu board needs!
For more information about any of our products, feel free to contact us!