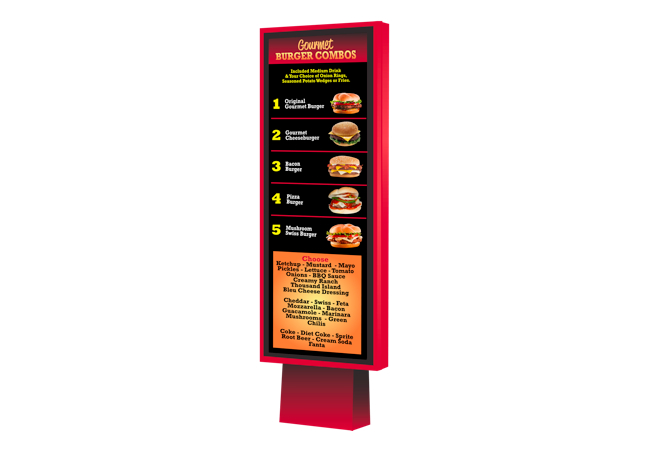 Is your menu expanding? Do you have a brand new item that you want to feature? Or maybe you are having a new sale or promotion! Did you know that having a presell board can actually increase service time because it can influence customers to make their purchasing decision before they even get to the main unit menu board!
This internally-LED-illuminated presell menu board from The Marquee Series, will display your promotions, specials and limited-time-offers with extraordinary affordability and flexibility, while remaining attractive and professional in design.
Fixed Presell Drive Thru Menu Board Features:
Offered in 27 and 39 line capacities
Seven stock colors – scarlet, cobalt, latte, honey, sterling, onyx (gloss), coal (semi-gloss)- custom colors available
Energy-efficient LED lighting
Easy-to-change pictures, text strips, and price
Graphic work is all customized to customer needs
Options include – freestanding/wall mount with speaker post or in-board speaker/microphone
UL listed and wind load rated for up to 150 mph (not including appendages)
Unparalleled quality and price in the industry
To see all of our menu boards and accessories feel free to browse our drive thru menu board gallery!
Don't forget to look at some of our other drive thru menu board products such as main units, accessories such as speaker posts, clearance bars and canopies, and add-ons like wings and toppers. We are more than just a place to buy your drive thru menu board equipment, we offer many custom services and help you build a system that will fit your needs and that fits your budget!
For more information and a FREE demo, don't' hesitate to contact us.