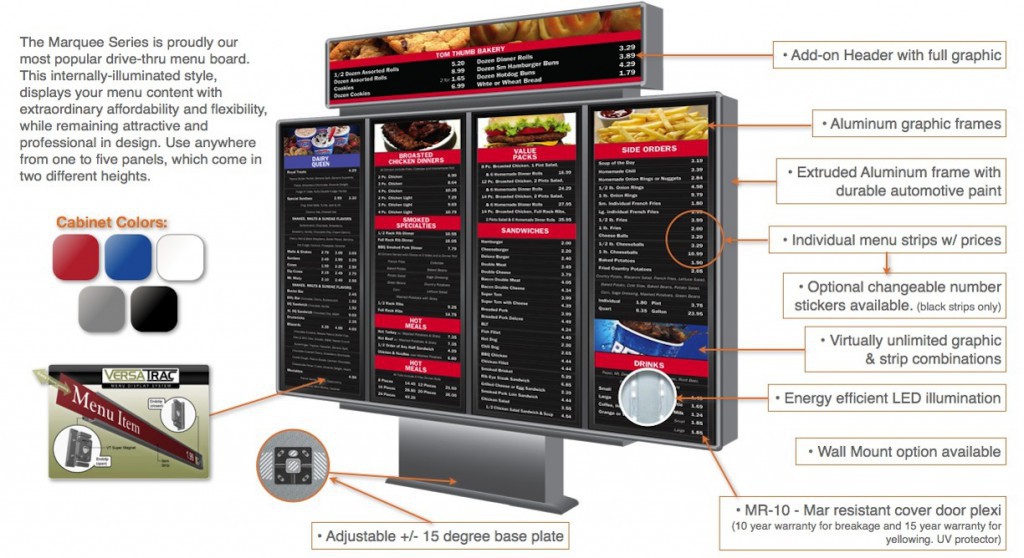 The Marquee series is our most popular drive-thru menu board main units. This internally-illuminated main unit, displays your menu content while remaining attractive and professional in design. Use anywhere from one to five panels, which come in two different heights. Change prices of menu items as well as promotional graphics in and out easily.
Fixed Drive Thru Menu Board Main Unit Features:
1, 2, 3, 4, or 5 door units with two different heights
Offered in 27 and 39 line capacities
Seven stock colors – scarlet, cobalt, latte, honey, sterling, onyx (gloss), coal (semi-gloss)- custom colors available
Energy-efficient LED lighting
Easy-to-change pictures, text strips, and price lines
Graphic work is all customized to customer needs
Options include – freestanding/wall mount with speaker post or in-board speaker/microphone
UL listed and wind load rated for up to 150 mph (not including appendages)
Coordinating side wing, presell board, and speaker post also available
Unparalleled quality and price in the industry
To see some examples of our drive-thru menu boards feel free to check out our gallery!
Don't forget our other drive thru menu board products such as wings, toppers, presell boards, speaker posts, clearance bars, and drive-thru canopies. At Origin Menu Boards we are more than just a place to buy your drive thru menu boards, we offer many different services to help you find the perfect menu board option that meets your needs and your budget!
For more information about our fixed drive thru menu board main unit or any of our other products, don't hesitate to contact us now!