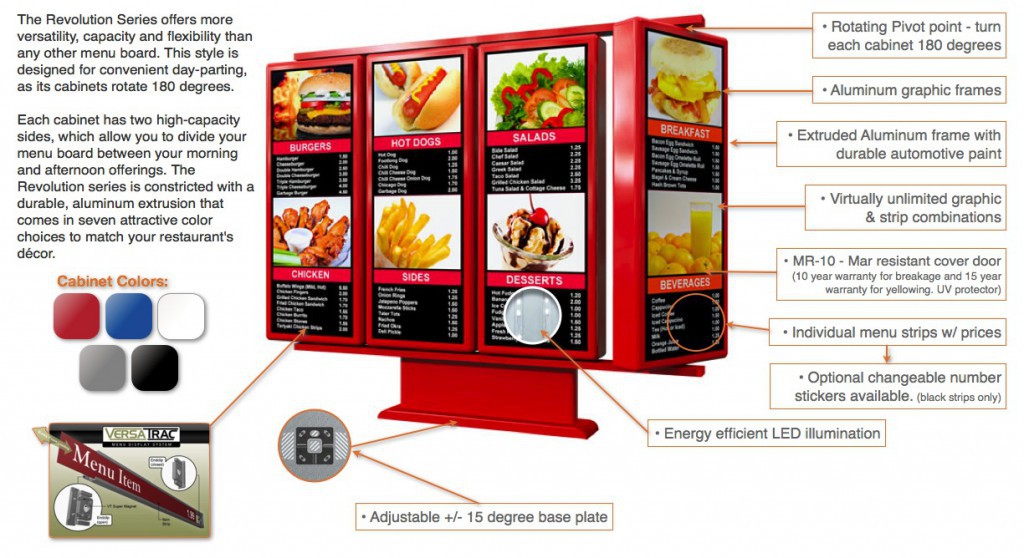 The Revolution Series offers more versatility, capacity and flexibility than any other menu board. This style is designed for convenient day-parting, as its cabinets rotate 180 degrees.
Each cabinet has two high-capacity sides, which allow you to divide your menu board between your morning and afternoon offerings. The Revolution series is constricted with a durable, aluminum extrusion that comes in seven attractive color choices to match your restaurant's décor.
Think of all the time you will save not having to remove and replace menu items, banners and graphics and individual menu prices. Saving time allows you to get back to your restaurant and make sure everything is going smoothly!
Rotating Drive Thru Menu Board Main Unit Features:
1, 2, 3, 4, or 5 door units with two different heights
Offered in 27 and 39 line capacities
Each cabinet can be rotated 180 degrees to show different items throughout the day
Seven stock colors – scarlet, cobalt, latte, honey, sterling, onyx (gloss), coal (semi-gloss)- custom colors available
Energy-efficient LED lighting
Easy-to-change pictures, text strips, and price
Graphic work is all customized to customer needs
Options include – freestanding /wall mount with speaker post or in-board speaker/microphone
UL listed and wind load rated for up to 150 mph (not including appendages)
Coordinating side wing, presell board, and speaker post also available
Unparalleled quality and price in the industry
To see some examples of our drive thru menu boards main units check out our gallery!
Don't forget about our other drive-thru menu board products such as wings, toppers, presell boards, speaker posts, canopies and clearance bars! We are more than just selling you menu boards, we provide you with in depth service that allows us to give you a custom option that meets your needs and budget!
Don't hesitate to call us today to find out more info!